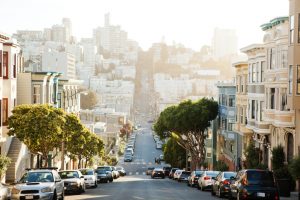 Without a doubt, San Francisco is currently one of the country's most lucrative real estate markets. The catch however, is that home prices are peaking at record highs, which can either be a perfect opportunity or a challenge.
If you're serious about buying a San Francisco investment property, it's important for you to prepare to be in it for the long run. While the city's real estate market is not considered an instant cash flow generating market, the great thing about it is that homes have always managed to retain their value even during economic downturns.
Looking to get the most out of purchasing an investment property in San Francisco? Consider setting your sights on some of these notable neighborhoods:
Pacific Heights
One of San Francisco's most popular neighborhoods, Pacific Heights is blessed with unparalleled views of some of the city's most iconic attractions, including the Golden Gate Bridge, Alcatraz, the San Francisco Bay, and the Palace of Fine Arts.
While Pacific Heights is frequently populated by both tourists and locals, the neighborhood still manages to maintain a quiet residential environment, which makes it a terrific area to invest in.
Potrero Hill
Located on San Francisco's eastern side, Potrero Hill is a neighborhood known for having a distinct character which makes it unique compared to other communities within the city.
Despite being surrounded by busier neighborhoods, Potrero Hill has managed to retain its laidback atmosphere. While it is primarily a residential neighborhood, Potrero Hill is very ideal for Airbnb investments, with an occupancy rate of 61.4 percent.
Merced Manor
Merced Manor (also referred to as Parkside) has an identity as a safe and family-friendly neighborhood. The area has access to a top-notch transit system, and is a short trip away from downtown San Francisco. These qualities make it a very attractive option for both locals and tourists, making it a prime neighborhood for real estate investments.
South of Market (SoMa)
Situated south of Market Street, SoMa is a sprawling residential neighborhood consisting of several sub-neighborhoods such as Mission Bay, South Beach, and Rincon Hill.
SoMa has a very vibrant environment which has a little bit of everything, including trendy art venues, lively clubs and nightspots, and bustling business districts. The neighborhood may not be quite as developed compared to other San Francisco communities, but construction efforts have been trickling in over the past couple of years.
Golden Gate Heights
The little-known enclave of Golden Gate Heights has numerous factors that make it ideal for investments. Almost all of the properties here consist of single-family homes instead of condos, which makes it less dense compared to other neighborhoods. It is also a short ten minute walk away from the shops, restaurants, and bars along the vibrant Inner Sunset along Irving Street and 9th/10th.
One of Golden Gate Heights' best advantages however, is the gorgeous ocean views – most properties here face west towards the ocean, offering amazing ocean view sunsets for residents.
Need some help searching for the best investment property in San Francisco? Get in touch with Jacqueline Plata anytime by calling 707-628-3685, or send an email to Sold(at)PlataRealtyGroup(dotted)com