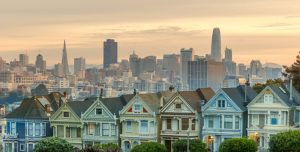 The Bay Area market is one of the most competitive housing markets in the country today, which means searching for a property here can seem like a daunting task.
The good news is you can put yourself in the best position to buy in the Bay Area simply by being aware of the basics and managing your expectations.
Here are some important things to keep in mind:
Pick an ideal location

While the median price of homes in the Bay Area is $900,000, there are still areas where you can find more affordable homes. Be sure to do your research and ask your real estate agent for assistance.

If you're in the market for a starter home, keep in mind that inventory in Bay Area typically increases near the end of the year. During this period prices can drop, or at least become a little more negotiable.

Determine what type of home you want

Before you start your search, be sure you have a clear idea of what type of home you're after. Make a list of essential and negotiable features, along with the number of bedrooms and baths, access to public transit, local schools, and so on.

Next, determine an ideal budget and make sure you stick with it. Factor in how much you will need as down payment and how much you'll need to pay every month for mortgage, insurance, property taxes, homeowners' association fees, and make sure the amount is something you can afford.

Be ready for the competition

Inventory throughout the Bay Area is usually tight, so homes can sell rapidly. This means buyers don't have the luxury of taking time to mull over a potential purchase. Taking just a couple of days to decide whether or not you should make an offer will likely lead to someone else getting it.

Get preapproval

Getting preapproved means your lender has received all necessary documentation required to approve your loan.

In case your financial situation is subject to interpretation, you can request for a "TBD approval," which means the lender's underwriter has thoroughly assessed and approved your application, even if the home is to be determined. This is an effective way of telling the seller that your loan has already been fully approved and is currently waiting for the title report, purchase contract, and appraisal.

Include a personal letter with your offer

Because the Bay Area is such a competitive market, even the little things that can make your offer stand out can give you a huge advantage. You might gain an edge over other buyers simply by including a personal letter along with your offer.

You can express how much you appreciate their home and that your family looks forward to living there if ever your offer is accepted. While this might seem too cheesy for some, there is absolutely no downside to doing this – you need all the advantages you can get in order to compete as a buyer.
Need help searching for a new home in the Bay Area? Get in touch with Jacqueline Plata anytime by calling 707-628-3685, or send an email to Sold(at)PlataRealtyGroup(dotted)com